People are so curious about this topic even I have published two articles on the same topic but let's talk about it again.
Someone asked me this:
Are people who are famous on music.ly paid for their videos? If not, why do they spend so much time creating such insignificant stuff?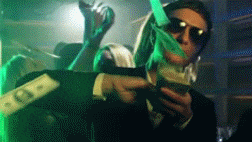 Ok, let's put money aside and think this way.
What if you want to escape out from your boring life?
What if you want to showcase your talent?
what if you like to shoot or express yourself through a social platform?
These are some questions which you should ask yourself before coming to any conclusion. Not all people are same, not everyone's perception matches.
It depends on what exactly matters for you. Some people want name, some want entertainment and some people care about only money.
The thing is, if you have seen people who help other people for free. They don't expect a payback. Its what makes them happy 🙂
Same thing is here. If someone is making video, it can be her/his passion.
So, Let's come to the main topic,
how much do TikTok stars get paid?
I have recently covered so few articles that you should read to get exactly how people earn from TikTok
Hope these articles has cleared all of your doubts regarding earning online from TikTok 🙂
Don't forget to follow us on Instagram @HowtoTikTok also make sure to visit again because we do post a lot of stuff regarding TikTok